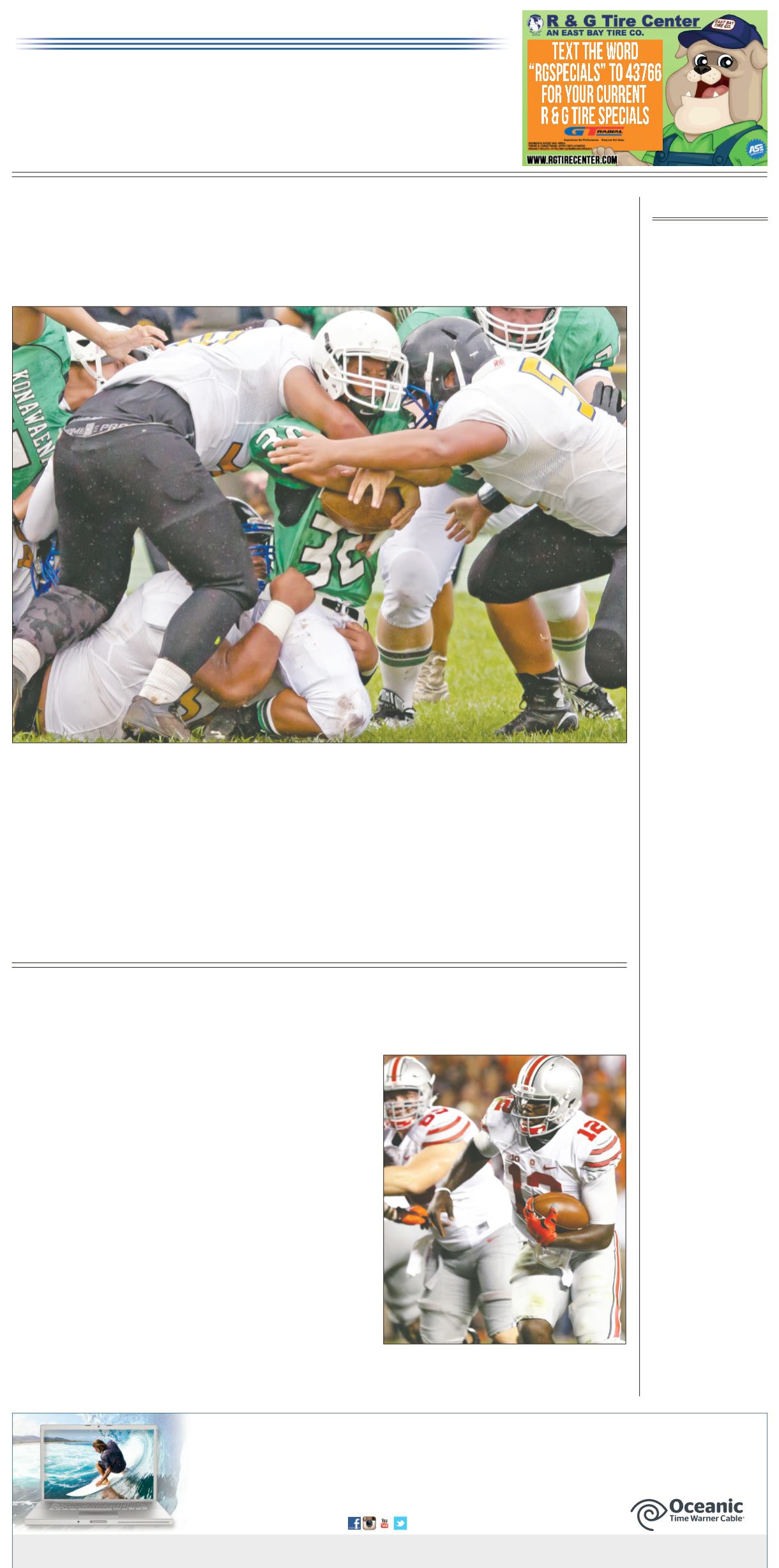 Upcoming Hawaii
Cycling Club events
has scheduled two bicycle
training time trials com-
bined with a Saturday ride
the Mauna Kea — a six mile
time trial with an eleva-
tion gain of 2500-ft on the
n Back" Training Time Trial
place at 7 a.m. on Sept. 19.
The course is 19.5 miles.
The start is at Kaiminani
Hwy. Competitors will ride
time trial bicyclists will
start shortly after the last
com for additional infor-
5th Bieni 5K Fun Run
and Dog Walk at HPA
Runners, walkers, friend-
are invited to participate
in the Fifth Bieni 5K Fun
ning at 9 a.m. on Sept. 20
at the Hawaii Preparatory
— located at the school's
Upper Campus — is a chal-
lenging, but fun and that
includes hills, flats, grass
register online by Sept. 8
will receive a race shirt and
visit: flpregister.com/154.
Entry fees are $25 for par-
ticipants 11 and older and
$35 for those 11 and older
event honors Bieni Kohler-
2009 after a valiant bat-
tle against breast cancer.
All net proceeds from the
Scholarship at HPA, which
who are gifted in athletics,
of a two-night stay at the
will receive a round of golf
for four at the Mauna Kea
ent to win. Medals will be
three male and female fin-
ishers in each age division.
contact Liz Noetzel at989-
Age group
volleyball in Waimea
registration for the upcom-
season for ages 9-10, 11-12
and 13-14. Clinics will be
held Sept. 8, 9 and 10 at
Whether you're checking Facebook, watching surf videos on
YouTube™, shopping online or playing the latest video game,
you can do it all with Oceanic Time Warner Cable Internet.
O… erexpires 10/18/15and isavailable tonew residentialcustomersorcurrentTVandPhonecustomerswhosignup forEverydayLowPrice Internet (up to2Mbps);o… ermaynotbecombined.Bysigningup for thiso… er,customeragrees tobeboundby the termsofTWC'sSubscriberAgreementwhich
canbe foundathttp://help.twcable.com/html/twc_sub_agreement.html.Additionalchargesapply forequipment, includingmodem, installation, taxesand fees.Youmaycancelanytimebycalling643œ2337.Allservicesmaynotbeavailable inallareas.Notallequipmentsupportsallservices.Actualspeeds
mayvary.Subject tochangewithoutnotice.Somerestrictionsapply.TimeWarnerCableand theeye/ear logoare trademarksofTimeWarnerEnterprisesLLC.Usedunder license.Allother trademarksarepropertyof theirrespectiveowners.©2015TimeWarnerCableEnterprisesLLC.Allrightsreserved.
Leaseofamodemorpurchaseofanapprovedmodemrequired for InternetserviceCurrentlyapprovedmodemscanbe foundatwww.twc.com/approveddevices.
Tuesday, September 8, 2015 | west Hawaii today
Success not going to Medeiros' head
sure the debut of Monday night
football in Kealakekua was well
The Wildcats edged the two-
time BIIF DI champion Vikings
34-27 on a mostly dry night at
Konawaena in a contest that was
postponed because of inclement
"This was a great team win,"
Konawaena head coach Brad
Uemoto said. "A victory over a
great program like Hilo is some-
thing for us to be proud of. It's
4-0 overall) quarterback Austin
Ewing racked up 340 yards
and two touchdowns on 25 of
39 passing, and running back
Algene Kelekolio added 50 yards
Dual-threat Vikings (1-1 BIIF
DI, 1-4 overall) quarterback
Ka'ale Tiogangco provided a
lot of the offense for Hilo. The
junior QB was 17 of 32 passing
for 196 yards and two touch-
downs. He added 87 yards and a
the game in the matchup of two
Konawaena didn't look like it
would come away with much
Konawaena running back Algene Kelekolio picks up a short gain while being brought down by three Hilo defenders in the first
quarter of Monday's make-up game after the two teams were rained out on Friday
.
Konawaena holds off Hilo
34-27 in cross-division battle
Braxton Miller has clearly
the college football world
sideline, the other on an
Buckeyes began their title
defense with a 42-24 vic-
tory over Virginia Tech on
preferred that third quar-
ing for a quarterback job
an athlete," Virginia Tech
as the Hokies fell to 0-9
1. "I thought he was pretty
24-yard reception for his
only got better as the night
run including a spin move
that left defenders falling
pen, and said he thought:
defenders up for the spin
to run free to the end zone.
them up," he said. "I acted
like I was looking straight
but I seen them out of the
where he left off last sea-
for a third, and tailback
Ezekiel Elliott was virtual-
Miller missed last season
with an injury to his right
"This kid's all about the
for a fourth year. I love this
Miller, No. 1 Ohio State take care of Virginia Tech, 42-24
Ohio State quarterback Cardale Jones (12)
breaks free for a touchdown during the second
half of Monday's games against Virginia Tech
.