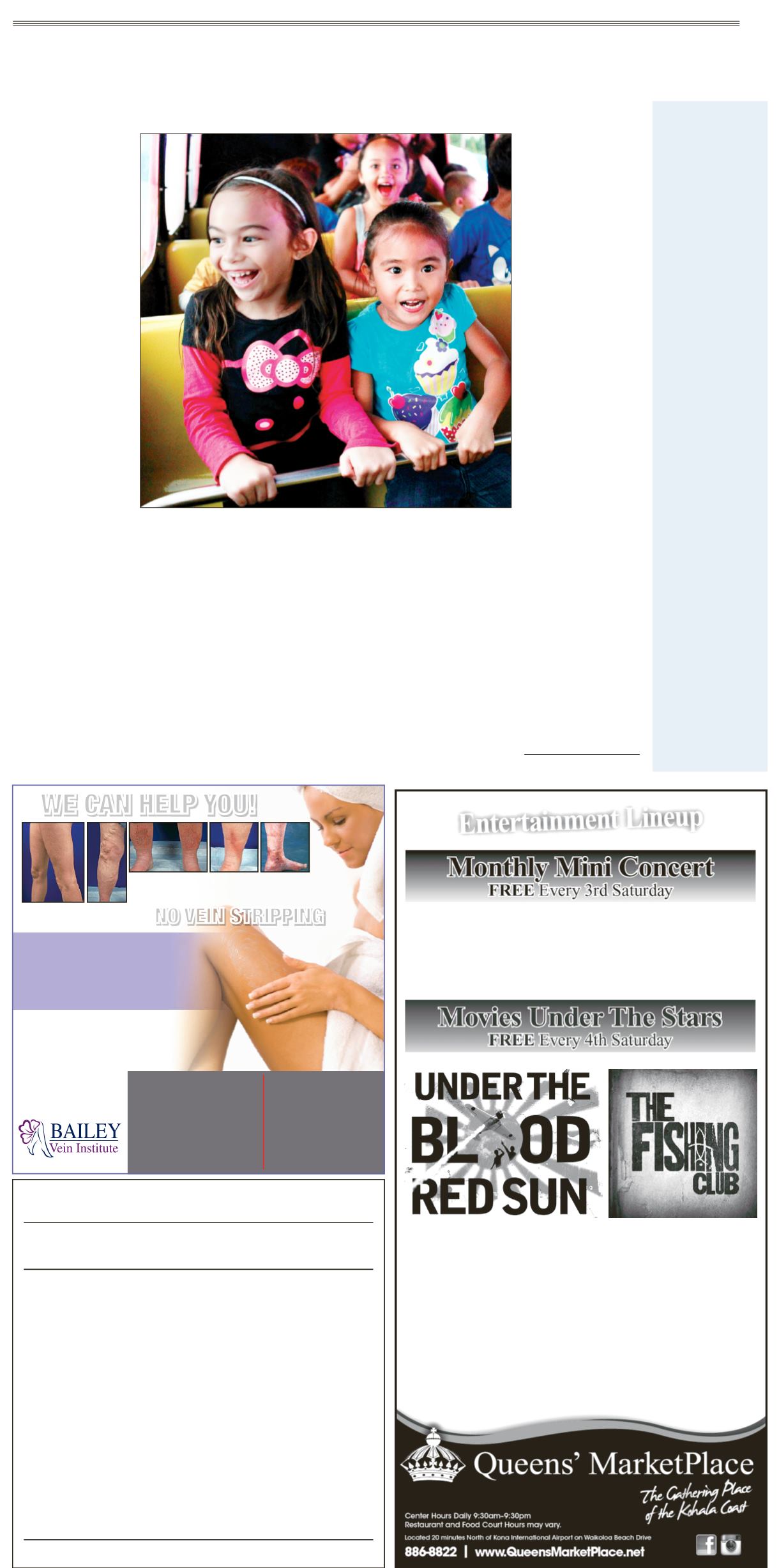 1. Covered by Medicare and Most Insurance
2. Non-Surgical / Minimally Invasive using Radiofrequency
3. No Downtime / No Hospital
4. Office Based Treatment Under Local Anesthesia
Leg Heaviness
Aching/Pain/Burning
Itching
Restless Legs
Swelling
Cramps at Night
SYMPTOMS
All 5 of the above patients have different stages of
Venous Insufficiency which is progressive.
Colin E. Bailey, M.D., F.A.C.S.
Venous & Lymphatic Medicine
Randall Juleff, M.D., F.A.C.S.
Venous & Lymphatic Medicine
Saturday, September 19th, 6pm to 8pm
Made in Hawaii Movies
Join us Saturday, Sept. 26 at 6:30 pm for a chance
to see two award-winning Made in Hawaii movies
LifeinPursuit
"Under the Blood Red Sun"
two boys—one Japanese, one Caucasian—in the turbulent times
after Pearl Harbor was attacked. Based on acclaimed youth
novel by Graham Salisbury, with outstanding young actors.
"The Fishing Club,"
a short film about friends who
plot to stop resort construction. Starring KITV sports anchor
Robert Kekaula and Hawaiian musical artist Keali'i Reichel.
Four (4) seats available for terms beginning July 1, 2016:
Two (2) City and County of Honolulu
Candidates for the City and County of Honolulu and Hawai'i County
seats must reside in the geographic area that they represent, and the
candidate for the student seat must be a student of the University of
Hawai'i system at the time of initial appointment.
The Candidate Advisory Council, created by Act 56, 2007 Session Laws of
Hawai'i, qualifies, screens, and presents to the governor, pools of quali-
fied candidates from which the Board of Regents shall be nominated.
Visit the Candidate Advisory Council website at
call (808)692-1218 for more information.
Applications will be accepted through October 3, 2015. Early submis-
sion of nominations is encouraged.
Candidate Advisory Council Chairman L. Thomas Ramsey
Candidate Advisory Council
NOMINATE CANDIDATES FOR THE BOARD OF REGENTS
OF THE UNIVERSITY OF HAWAI'I
west hawaii today | tuesday, september 8, 2015
Bumper cars, cotton candy, 'poi balls'
family fun are just around
the grounds of the Afook-
Chinen Civic Center inHilo.
funds all the other projects
that we do throughout the
year — the Easter egg hunt,
basically our whole admin-
istration runs off the fair,"
said Kelton Chang, one of
the Jaycees' fair organizers.
"We also run this fair for
over three dozen different
organizations in the com-
This year, the fair is a bit
earlier than usual, Chang
E.K. Fernandez set up their
barge routes (to ship rides
this year, that's what was
tive vice president of E.K.
bumper-car aficionados will
notice an upgrade this year.
beautiful," she said. "We just
brought them in from Italy.
and they'll be brand new for
where fluorescent or incan-
descent lights were the ear-
our games, even on some of
our food wagons. It makes it
so much brighter," she said.
"It just makes everything
night, people love the lights.
It just gives everything a
little more excitement. Plus,
"All of the classic rides,
the Zipper and the Ferris
wheel, they're all redone,
for adults, $2.50 for chil-
Saturday is wristband day,
selling for $30 between 10
a.m.-2:30 p.m. and wrist-
band ride tabs good until
6 p.m. Sunday is half-price
admission at the gate, and
between 10-11 a.m. the Hilo
Jaycees Food Drive allows
fairgoers free entry with
three cans of food for an
child. Expired cans will not
table sale is from 5-9 p.m.
Friday and a craft fair is
Keiki IDs, car seat demon-
same hours Saturday, it's
Kupuna Day, a first for the
with the county's Elderly
said. "It's to help the kupu-
na understand the activi-
ties and the programs that
the elderly, informational
booths on health and being
the entertainment tent is
Tony Silva, the stars of "Da
is also on the bill, with
Another first is the Sweet
"It's a poke that's very,
won that thing. There's only
about three or four people
who've actually finished it."
the food. Fair fare includes
funnel cakes, cotton candy,
popcorn, corn dogs, pret-
those unafraid of cardiac
and Twinkies. Since this is
Hawaii, there are also local
favorites such as Hawaiian
food, Thai food, loco moco,
Braddah Pops and a first,
The fair is a rain-or-shine
number of tropical cyclones
this hurricane season, the
Jaycees will be monitoring
will stay on their (project-
ed) path so we don't have to
have a last-minute cancella-
Email John Burnett at jburnett@
hawaiitribune-herald.com.
Thursday, Sept. 10
Friday, Sept. 11
Saturday, Sept. 12
Sunday, Sept. 13
Jaycees annual Hawaii County Fair to light up Hilo
From left, Jillian Lum, 4, and Kallie Kotake, 6, giggle together on the Crazy
Place ride at the 2013 Annual Hilo Jaycees Hawaii County Fair at the at
Afook-Chinen Civic Auditorium Fairgrounds.