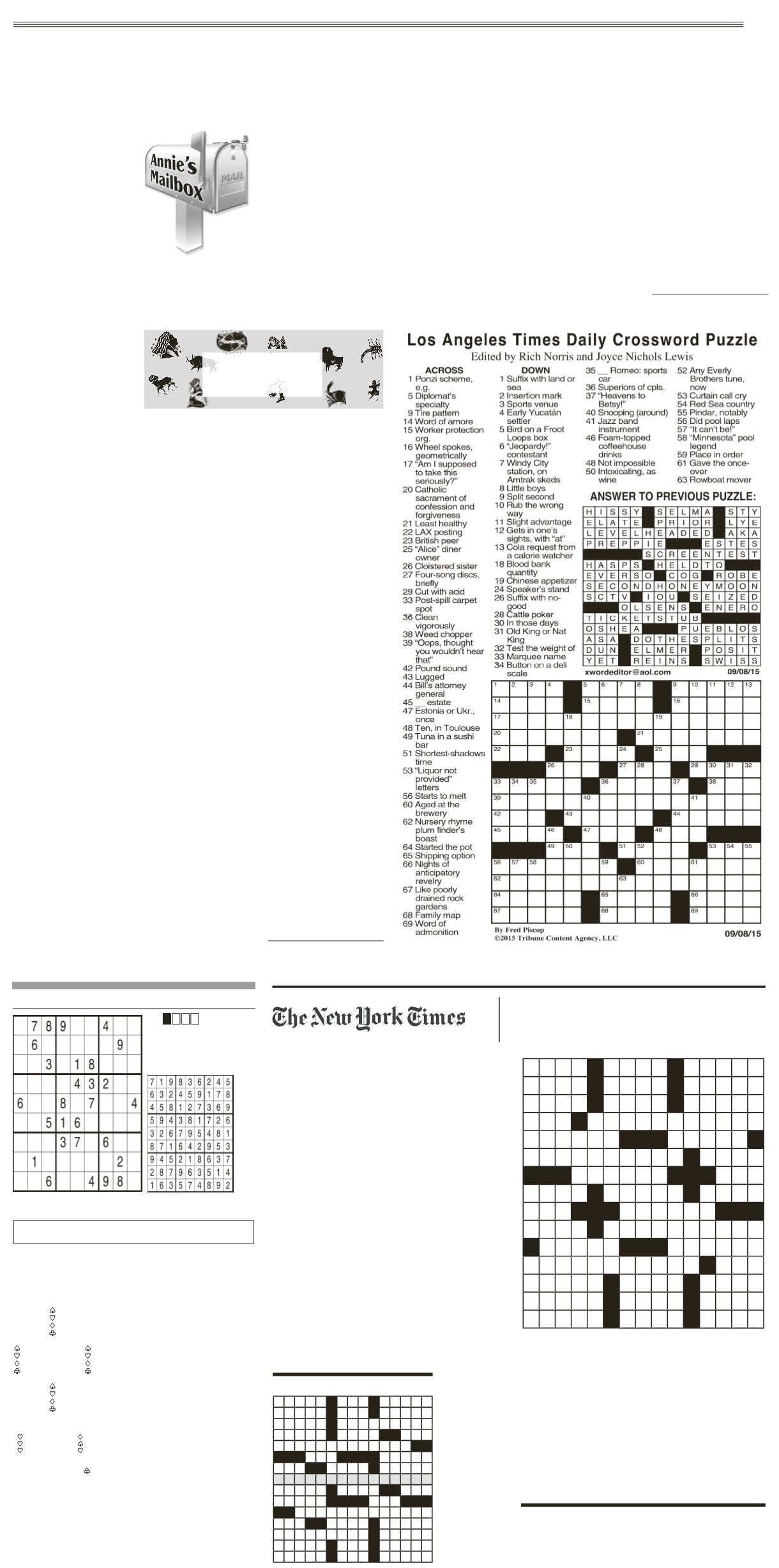 TUESDAY, SEPTEMBER 8, 2015 | WEST HAWAII TODAY
Dear Annie:
kids, yet they constantly
often, but doesn't bother
takes her places. I recent-
was feeling about my sis-
ters, and she told me they
refuses to ask for any help
never asks me to take her
needs food in her house. I
to anyone for a year. But
believe they are selfish.
myself. It gets expensive
Dear Sheep:
force your sisters to be the
same. If you were an only
child, would you continue
be less frustrating for you
to think of yourself that
be able to get your sisters
to contribute financially
if it lets them off the hook
otherwise. Calmly explain
her supplies, it is becom-
ing too difficult. Ask how
Dear Annie:
notice what color clothes
lines, collars, hemlines,
ly, is that I, along with
Dear Heartbroken:
Annie's Mailbox
is written by Kathy
Mitchell and Marcy
Sugar, longtime editors
of the Ann Landers col-
umn. Email questions
to anniesmailbox@
creators.com, or write
to: Annie's Mailbox, c/o
Creators Syndicate, 737
3rd St., Hermosa Beach,
CA 90254. Find Annie
at facebook.com/askan-
nies. To find out more
about Annie's Mailbox
and read features by
other Creators Syndicate
writers and cartoonists,
visit creators.com.
COPYRIGHT 2015 CREATORS.COM
PUZZLE BY JOEL FAGLIANO
Online subscriptions: Today's puzzle and more than 7,000 past
puzzles, nytimes.com/crosswords ($39.95 a year).
Read about and comment on each puzzle: nytimes.com/wordplay.
Crosswords for young solvers: nytimes.com/studentcrosswords
ANSWER TO PREVIOUS PUZZLE
M A D A M G A P M A C A W
A G A P E I L L E N O C H
T A K E S M O U S T A C H E
C Z A R S M O T O K E Y
H E R C U L E P O I R O T
U P I
O B A M A
A D S
N E A P T O I L S
L I T T L E G R E Y C E L L S
S P I R O O K R A
S E T
O S L I N
L O T
E G G S H A P E D H E A D
A F T
G E N E D R A M A
D E T E C T I V E E A T E N
A T O N E D I R S C O N E
M A S S E I L S T E N D S
The New York Times Syndication Sales Corporation
620 Eighth Avenue, New York, N.Y. 10018
For Information Call: 1-800-972-3550
For Release Tuesday, September 8, 2015
GOREN BRIDGE
Tuesday, September 8, 2015
WITH BOB JONES
©2015 Tribune Content Agency, LLC
EITHER WAY
North-South vulnerable. South deals.
NORTH
A 10 7 5
Q
A 9 7 5 4
K 7 4
WEST
EAST
K J 9 8 6 4
Q 3
8 7 5
9 6 2
J 8 2
K 10 3
5
A J 10 9 3
SOUTH
2
A K J 10 4 3
Q 6
Q 8 6 2
SOUTH WEST NORTH EAST
1
Pass 2
*
Pass
2
Pass 2
Pass
3
Pass 4
All pass
*Game forcing
South's decision to bid three
hearts, rather than two no trump,
would not meet with universal
approval. Indeed, nine tricks at no
trump would have been easy on this
deal. South was a world class player,
however, so system might have
The opening club lead went to
East's nine and South's queen. There
were nine top tricks. The clubs
looked to be with East, so the only
chance for a tenth trick was the queen
of diamonds. Should South cross to
dummy with the queen of hearts and
lead toward the diamond queen, East
could rise with the king and shift to
spades, killing the entry to the
Declarer decided that his best
chance was an end-play against East,
so he set about eliminating spades
from the East hand. He led a spade to
the ace and ruffed a spade, followed
by a low heart to the queen and
another spade. East ruffed with the
nine, hoping to promote something in
West's hand, but South over-ruffed
and drew trumps. East had to find a
discard on the third round of hearts,
and he chose a low club. Declarer
simply exited with a club. East could
take three club tricks, but then had to
lead away from his king of diamonds
and South had his contract.
Had East discarded a diamond,
instead, South could play the ace and
another diamond. East would then be
forced to give dummy the king of
(Bob Jones welcomes readers'
responses sent in care of this
newspaper or to Tribune Content
Agency, LLC., 16650 Westgrove
Dr., Suite 175, Addison, TX 75001.
E-mail responses may be sent to
)
Sudoku
By The Mepham Group
Solution to Monday's puzzle
Complete the grid so each row, column and
3-by-3 box (in bold borders) contains every digit
1 to 9. For strategies on how to solve Sudoku,
© 2015The Mepham Group. Distributed byTribune ContentAgency.All rights reserved.
Level:
1
2 3 4
Sister frustrated by siblings who don't help mom
TUESDAY, SEPT. 8, 2015
CELEBRITIES BORN ON
THIS DAY:
Arquette, 44; Brooke Burke
Charvet, 44; Neko Case, 45.
Happy Birthday:
life simple and your overhead
reasonable. You don't have to
impress anyone this year. Just be
yourself and enjoy what life has
to offer. Your ability to get things
done using your skills and com-
mon sense will help you counter
any negative influences. Focus on
financial improvements and per-
fecting your image and talents.
Your numbers are 6, 11, 23, 29,
ARIES (March 21-April 19):
You will gain more by being
nice than by being stern. Keep
in mind that not everyone is as
quick as you are. Patience will
be required if you want help.
Discuss your plans with your
partner or business associate. 2
TAURUS (April 20-May 20):
Look at the big picture, but don't
exceed your budget. You'll face
opposition if you try to make
physical changes. Focus on get-
ting along with the people you
live with. Compromise and tak-
ing care of your responsibilities
will ease tension. 4 stars
Don't take on too much or
indulge in something that will
make you look or feel bad. Put
more into home, family and
affection toward the people you
enjoy being with most. A change
of location will do you good. 4
CANCER (June 21-July 22):
Uncertainty will take over if you
allow someone to put you in a
vulnerable position. Don't put
up with pushy behavior. Take a
course or research something
that interests you. Avoid anyone
who is trying to bait you into a
Money matters will take an
unusual twist. Don't leave cash
or valuables out in the open.
Kindness and generosity will lead
to loss. Put your skills to work
in a progressive fashion and you
VIRGO (Aug. 23-Sept. 22):
Use old ideas and skills in an
interesting manner. Take on less
responsibility and make sure
that whatever you do, you do
it superbly. A sudden change in
financial, legal or health matters
will lead to an important deci-
LIBRA (Sept. 23-Oct. 22):
Don't let minor setbacks put you
at a disadvantage. Set reason-
able goals and don't worry about
what anyone else thinks. Stay on
track and avoid any emotional
disputes. Only offer help to those
you know will reciprocate. 2 stars
21): Business trips will give you
reason to celebrate. A positive
change at home and to your rep-
utation is within reach. A pro-
posal you cannot turn down is
heading your way. Prepare to
negotiate and get what you want
SAGITTARIUS (Nov. 22-Dec.
21): Precision, coupled with facts
and figures, will be the only way
to operate today. Know exact-
ly what you will get before you
make any offers. Risky joint ven-
tures are best avoided. Invest in
19): Don't overanalyze. Focus on
what you know and do well and
make deals that are precise and
non-negotiable. A partnership
can bring you good fortune if
it's set up fairly. Don't make any
impulsive decisions or travel to
unsafe territory. 3 stars
AQUARIUS (Jan. 20-Feb. 18):
Make love, romance and social
activities a priority. Share your
thoughts and flesh out how oth-
ers feel about you and your plans.
A personal change can be made,
but hold off if you are thinking
about a vocational move. 3 stars
PISCES (Feb. 19-March 20):
Take action with confidence
and the outcome will be stel-
lar. Use your unique qualities to
draw reactions and responses
from those you want to interact
with. You will be pleasantly sur-
prised by the input and offers you
Birthday Baby:
adaptable, compassionate and
just. You are courageous and
UCLICK 1130 Walnut St., Kansas
City, MO 64106; 816-581-7500