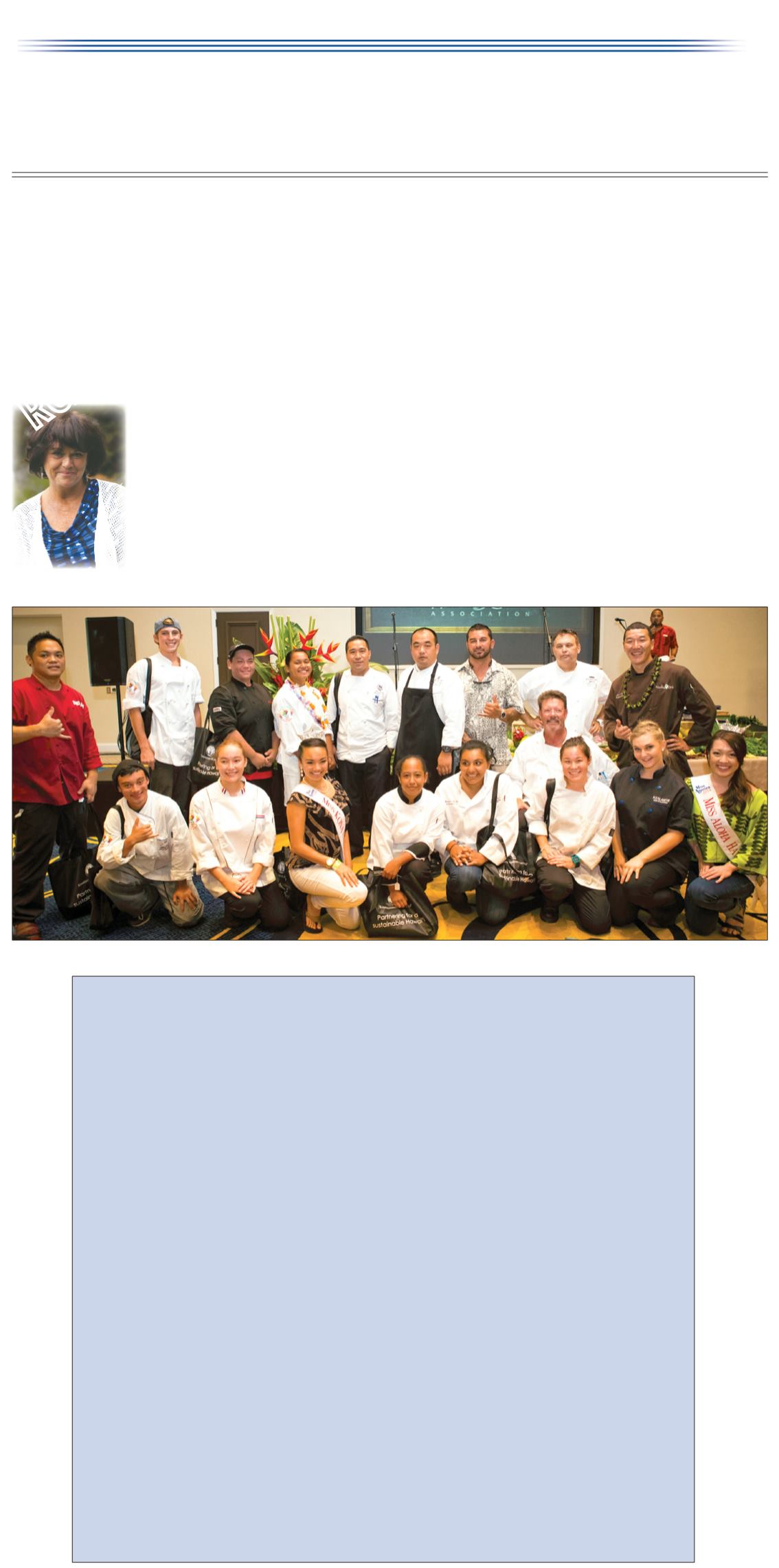 TUESDAY, SEPTEMBER 8, 2015 | WEST HAWAII TODAY
SPECIAL TO WEST HAWAII TODAY
With the goal of showcasing the best locally raised food and coffee, the Roast & Roots team includes top chefs and culinary students from all around
Hawaii Island, plus Miss Aloha Hawaii and Miss Kona Coffee.
Creamy pumpkin soup
1 kabocha pumpkin, skinned and cubed
Corn starch/water slurry to thicken
In a large soup pot, saute onions and pumpkin
with a little oil until onions are translucent and
pumpkin is tender. Add coconut milk and stock.
Simmer on medium heat for 30 minutes. Run mixture
through a food processor or blender, in batches
if needed, until soup is smooth. Return soup to
pot and add cornstarch slurry until thickened.
Island-style grilled shrimp
with edamame hummus
8 to 12 large shrimp, peeled, cleaned and deveined
Marinade:
1 tablespoon agave nectar
1 tablespoon balsamic vinegar
1 tablespoon minced garlic
1/4 cup chopped scallions
Dash of chili pepper flakes
Combine marinade ingredients in bowl; add shrimp
and marinate in refrigerator for at least four hours
or overnight. Grill shrimp until cooked through.
Hummus:
8 ounces cooked edamame (shelled soybeans)
Pinch each of salt, black pepper, and cayenne pepper
Diced fresh scallions and fresh pineapple for garnish
Combine edamame, garlic, lime juice and
seasonings in a food processor. With blade
running, slowly add the olive oil and blend until
thick and smooth. Adjust seasonings to taste.
Scoop hummus onto the center of each of four
plates. Place two or three grilled shrimp on top
of each serving. Garnish with diced scallions
and diced fresh pineapple and serve.
Kim chee marinated and grilled Big Island
hangar steak with sweet chili soba and
tempura Hamakua mushrooms
2 pounds local grass-fed beef (tri-tip or skirt steak)
Marinade:
Combine marinade ingredients in large
pan or bowl. Add beef, coat with mixture
and marinate in refrigerator overnight.
Sweet chili soba:
1 package soba noodles, cooked
1 carrot, peeled and julienned
2 onions, peeled and julienned
1 red or yellow bell pepper, seeds
and ribs removed, julienned
Cilantro bunch, rough cut
In serving bowl, combine soba noodles
and remaining ingredients.
Soba dressing:
Blend chili sauce and lime juice in small bowl;
slowly add oil and mix. Toss noodle mixture
with dressing; chill until ready to serve.
Grill marinated beef to preferred doneness
and serve with soba noodles.
Hiraishi adds Hamakua mushrooms that have
been fried in tempura batter to top off the dish.
hanks to large crowds of residents and visitors at last year's inaugural event, the
second annual Roast & Roots returns for a daylong celebration of local foods and coffees
from 10 a.m. to 3 p.m. Saturday at the Sheraton Kona Resort & Spa at Keauhou Bay.
This family-friendly event includes a "Buy Local" food and artisan marketplace, "People's Choice"
coffee tasting contest, a chefs' cooking challenge and entertainment by Alii Keanaina and M.C. Paris
DeCambra, followed by multiple Na Hoku Hanohano award winner, Nathan Aweau, in concert at noon.
Presented by the Hawaii Coffee Association, Hawaii Department of Agriculture and The Feeding Leaf events and catering
company, this collaborative event will also welcome conference attendees from the National Association of State Directors
of Agriculture. Conference attendees, along with residents and visitors, can taste and learn about local, sustainable Big
Island foods that have earned the HDOA Seal of Quality. Vendors include Buddhas Cup Coffee, Ohana Orchards Farm,
Tai Shan Farms, Living Aquaponics and Kona Coffee & Tea. Tickets are $6 per person, with no advance tickets needed.
The Chefs' Cooking Challenge includes chefs Dane Tanabe of Hilton Waikoloa Village, Casey
Halpern of Cafe Pesto and Clem Kaimiola of Sheraton Kona Resort & Spa at Keauhou Bay, as well
as other top island chefs who make "Buy Local" a priority. And yes, there will be sampling.
Here are a few "teaser" recipes you can try at home, courtesy of Chef Scott Hiraishi of The Feeding
Leaf. For more information about the event, visit facebook.com/roastandroots or call 960-3094.
R
O
A
S
T
&
R
O
O
T
S
E
V
E
N
T
C
O
M
I
N
G
S
A
T
U
R
D
A
Y