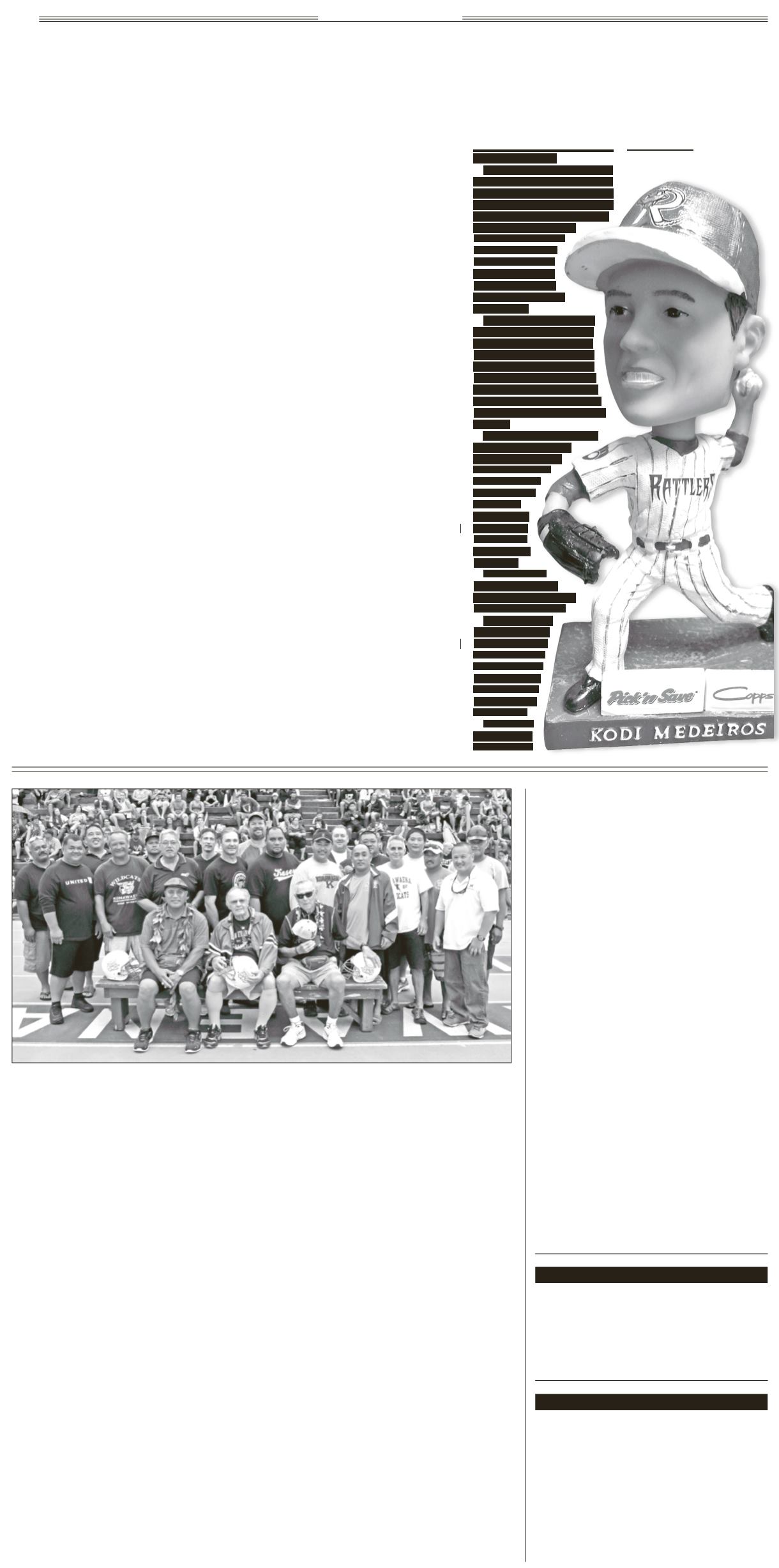 BIAC 45th annual
Labor Day Drags
short by afternoon rains.
Saturday Motorcycle
Bracket Race winner:
Saturday
Bracket
1 Race winner:
Saturday
Bracket
2 Race winner:
rain in the late afternoon.
uted equally to those still
Next Race:
TUESDAY, SEPTEMBER 8, 2015 | WEST HAWAII TODAY
SPORTS
Special delivery: Success not going to Medeiros' head
Medeiros had a special shipment
His family and friends were
expecting a souvenir of their
favorite professional baseball
player. However, it wasn't just
any souvenir, it was a bobble-
alumnus and hard-throwing
southpaw pitcher was imortal-
ized in the miniature sculpture.
Medeiros – who just wrapped up
his first complete seasonwith the
Wisconsin Timber Rattlers, the
Class-A minor league affiliate of
the Milwaukee Brewers – was
recognized at the team's second
to last home game of the regular
season on Sept. 3. During a fans'
chose vote, the Timber Rattlers'
faithful decide they wanted a
"I'm very honored and for-
tunate the fans voted for me,"
Medeiros said. "I actually have
"Not every 19-year-old wher-
ever they're at, Double-A,
High-A, Low-A, gets a bobble-
head," Timber Rattlers pitching
coach Gary Lucas said. "That's
Before the team handed out
the figurine to the first 1,000
fans, Medeiros secured 72 of the
dolls. However, not all the bob-
bleheads were sent to Hawaii. A
number of Medeiros' teammates
"It was kind of tough to sneak
out with my boxes because I
ended up giving away about 15
or 20 before I left," Medeiros
It was a pricey piece of mem-
orabilia to ship 4,130 miles
from Grand Chute, Wisconsin,
to Hilo. However, Medeiros can
afford it. When he was selected
12th overall in the 2014 MLB
draft out of high school, the
Brewers gave the young phen-
om a $2.5 million signing bonus.
roommate David Burkhalter
"Everyone wants one of him
and gives him a hard time just
about being a 'bonus baby,'"
Burkhalter joked. "It's all in good
PITCHING PROGRESS
The quiet pitcher is starting
to make a name for himself
in the minor leagues. In 2014,
Medeiros was 0-2 with a 7.13
ERA in nine games for the
Arizona League Brewers. With
the Timber Rattlers, Medeiros
finished 4-for-5 with a 4.44
ERA and 94 strikeouts in 93-1/3
Lucas doesn't look much at
the win-loss record or ERA of
his pitchers and neither do the
Brewers' brass. The pitching
coach closely tracked the move-
ment on Medeiros' pitches, if
his velocity held up and if he
still had a snap and speed on
his breaking ball at the end of
the season. Medeiros passed all
those tests with flying colors.
tent progress," Lucas said. "For
19 years old, I've been very
impressed with his work ethic.
He's developed some good rou-
Medeiros started 16 games
and threw in relief in nine
outings this season. Medeiros
was on an innings count the
entire year. Later in the season,
Medeiros was used at both ends
of a pitching tandem so he could
keep his innings down and still
"This year was very produc-
tive," Medeiros said. "Compared
to last year, I learned a whole lot
this year. I learned what kind
of pitcher I am. Last year, I just
kind of pitched how I did in high
school, just trying to blow it past
guys. I just didn't know how to
improved as did his three-pitch
arsenal. The 6-foot-2, 180-
pound left-hander has overpow-
ering stuff. He features a fastball
that touched 95-96 mph this
season and a slider and change-
up that registered in the upper
70s to low 80s, Lucas said. The
pitching coach noted his pupil is
"Everything he throws moves
like crazy," Burkhalter said.
Medeiros' slider "ridiculous,"
and said it was the best pitch on
THINKING AHEAD
Medeiros likes to compare
himself to San Francisco Giants
pitcher Madison Bumgarner,
Medeiros resembles Chicago
White Sox ace Chris Sale. All
three left-handers have the same
arm slot and explosive pitches.
"We think he's got three pretty
good pitches that will end up
being major-league pitches, and
with experience he'll get more
command and control," Lucas
said. "He has good movement of
both his fastball and slider. His
change is a work-in-progress."
One statistic that really
pops out from Medeiros' sea-
son is how many home runs he
allowed: zero. He takes pride in
keeping the ball in the park.
"I didn't realize that until
the last month of the season,"
Medeiros said. "I just kind of
looked at it and thought, 'I hav-
en't given up a home run yet.'
I feel like that's just a good job
of keeping the ball down when
I need to get the better hitters."
Medeiros, who projects as a
starting pitcher if he makes it to
the majors, knows he has many
areas where he can improve. His
control is a point of emphasis,
as is logging a better walk-to-
inning ratio (he had 40 walks in
Medeiros has high expecta-
tions since he was a high first-
round draft pick. In June, he
was named the No. 10 prospect
in the Brewers' organization
much pressure on myself,"
Medeiros said. "I just go
about my business and play
to the best of my ability
and just don't do too much,
because I know when I get
in that mindset of trying to
do too much, things don't go
Added Burkhalter, "I guess
is to play in the big leagues,"
Medeiros said. "I'd say it's just a
SPECIAL TOWEST HAWAII TODAY
Hilo's first half offense hampered by holding calls
hosts Labor Day Weekend races
BICC MEMBERS GOLF
When:
Where:
Format:
Blind draw:
Results:
Barb Millslagle,blind draw
Low net:
ShirleyAkana (won card-off,
Closest to the pin:
8);AlAkana (No.13); ShirleyAkana
KEAUHOU KONAMEN'S GOLF CLUB
When:
Where:
Format:
Results:
Low gross:
Closest to the pin:
8);JimGeiser (No.13); Mike Gregg
NAWAHINE OWAIKOLOA
WOMEN'S GOLF CLUB
When:
Where:
WaikoloaVillage Golf Club
Format:
Cross cross,half handicap
Results:
Carlson,Mona Peck (tie,32);Trish
Closest to the pin:
3); Deb Knox (No.6); Barby Rainey
(No.12);Trish Kimball (No.16)
WEEKLY BIG ISLAND GOLF RESULTS
Poo Wai u:
Calf Roping:
Wahine Breakaway:
Kane/Wahine Mugging:
Mutton Busting:
Jr. Bulls:
Double Mugging:
Wahine Barrels:
Keiki Barrels:
Wahine Steer Undecorating:
Open Team Roping:
No. 6 Team Roping:
Century Team Roping:
Bulls:
PARKER RANCH RODEO RESULTS
Former Konawaena coaches football coaches Roy Aukai, Earl Crozier and Jim Barry pose with many of
the players they coach while being honored at halftime of Monday's game against visiting Hilo High
.
from its first possession,
sideline to keep the drive
alive. Kelekolio finished
plunge into the end zone.
under certain situations to
look for something. I was
a little hesitant because
first half. The sophomore
17 of those passes for 217
little bit," Uemoto said of
his quarterback. "I don't
think there is truly a plan.
ing and moving the ball."
tacked on a 31-yard field
goal to make it 10-0, Hilo
31-yard quarterback keep-
Hilo's first half offense
holding calls. Not only did
and stall drives, it negat-
ed big plays, including a
negated, but the Wildcats
still had a big play in their
pass to big-play receiver
Wildcats inside the five-
yard line. Kelekolio car-
ried the pile into the end
zone for his second score
attention of defenses and
interception of Ewing out
— literally — on its next
connected with Kaleihalia
its sluggish start to the
second half with a 75-yard
dead to rights at the first
quietly though. Tiogangco
getting raucous after the
Hilo score. Big hits on the
but then things got a bit
out of control, leading to a
Hilo player being ejected
and a 15-yard penalty that
goal, but more important-
ly, they ran time off the
the Vikings pulled within
to tie the game, but time
lost his footing on the wet
Konawaena
Hilo