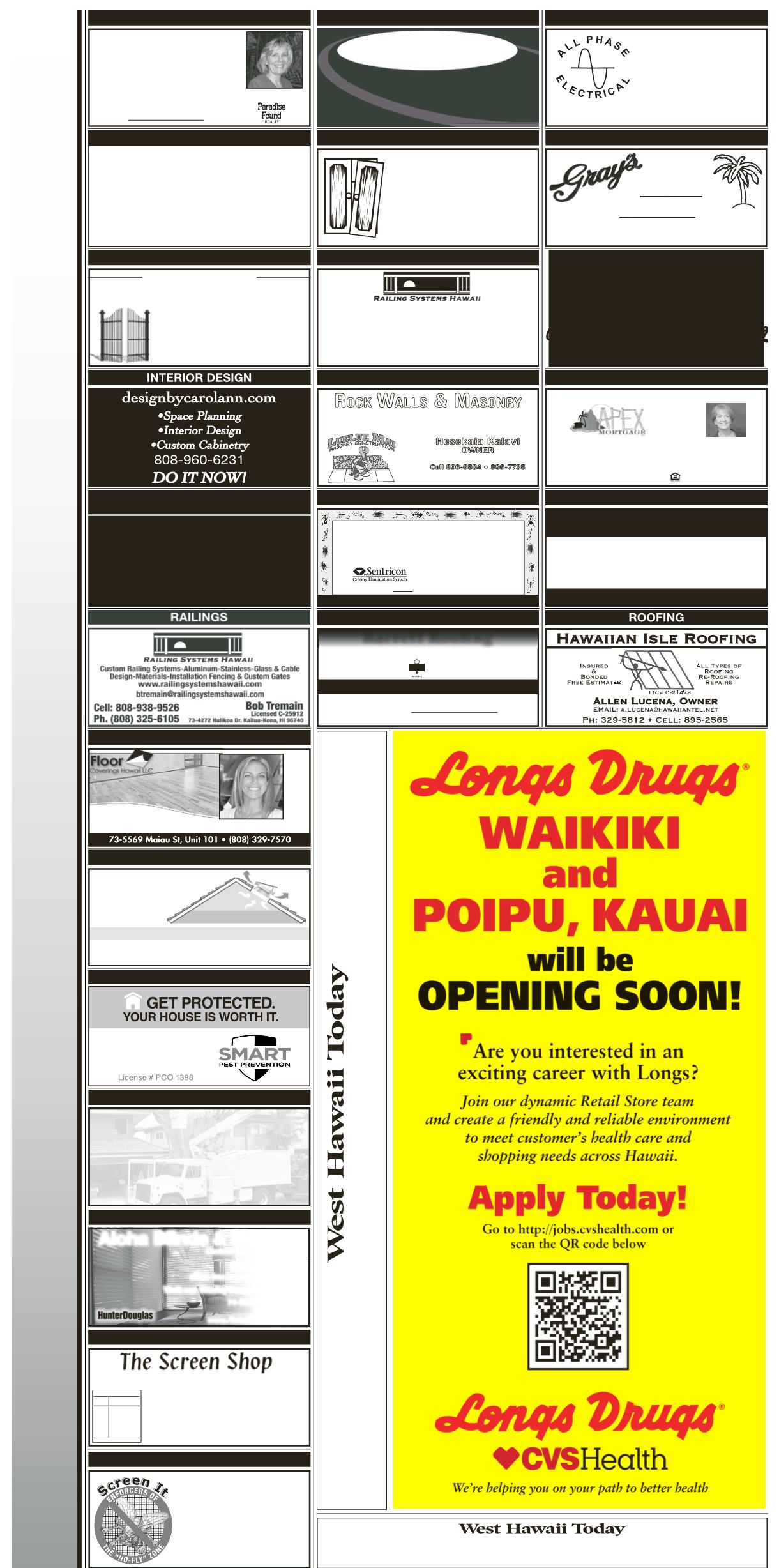 westhawaiitoday.com
See your business grow 329-2644
westhawaiitoday.com
See your business grow329-2644
Accredited buyers rep.
Check out my website! Surf all listings on MLS and
register for free email updates for new listings that
meet your needs - SO EASY!
FIND YOUR PARADISE:
Schlueter
&
Kwiat, LLLP
Michael H. Schlueter and Jason R. Kwiat
Book appointment online at: kona-lawyer.com
Office Phone (808) 987-7275 or (808) 339-1339
gate repair
Island-wide automated gate repair and maintenance
962-0106
GATEKEEPER
Serving the Big Island for over 10 years
ROOFING
Specialty flooring
In Stock And Available Immediately!
Covering all your flooring needs:hardwood, carpet,vinyl, laminate, cork,flooring installation & carpet binding
heat
moisture
solar attic fans
Licensed, insured, serving the Big Island since 1995
Install or upgrade for a
as well as a cooler house
25 Year
Warranty
New 30
Watt
Certified Tree Worker #2038C
Tree ervice
Fully Insured • KonaTreeService.com
offers free in-home consultations
Visit our Hunter Douglas Showroom
WINDOW COVERINGS
Window Screen/repair
Re-Screens • Security Screen Doors
New Screens • Entry Screen Doors
The Window Screen Specialists
Open Mon-Fri 8:00 to 5:00
329-7160
74-5484 Kaiwi St. #A145 • Corner of Luhia & Kaiwi
X
WINDOW SCREEN/FRAME REPAIRS
Door & Window Screen Repair
*Mobile Service Available*
Air ConditiOning
ACS
Air Conditioning Specialists, Inc.
Your #1 A/C Company in Hawaii
329-2996
AVAILABLE WHEN YOU NEED US!
LIC. - 20887
Since 1996
cabinets
Tired of Your Old Cabinets?
Like New & Save Thousands $$
Call for Free Estimates
74-5518 Kaiwi Bay D, Kailua-Kona
Gates
Custom Railing Systems-Aluminum-Stainless-Glass & Cable
Design-Materials-Installation Fencing & Custom Gates
MASONRY
Hesekaia Kalavi
OWNER
73-1117 Ahulani St.
Cell 896-6504 • 896-7735
Insured • Bonded
Lic. C-25152
Rock Walls & Slabs • Concrete • Chainlink
Waterfalls • Foundations • Paving
Tree Trimming • Clean Up
pest/termite control
BIG ISLAND PEST CONTROL, INC.
Full Pest Control & Termite Service
Tent Fumigation • Ground Treatment
Call us for "ALL" your pest control problems.
Better Health Thru Pest Control!
ROOFING
Barrett Roofing
Free Estimates • In business since 1972
Insured • • Lic. # C-6244
Keep Us In Mind Before You Sign
All Types of Roofing • Residential • Commercial
808-987-0109
Electrical
Lic.# C-24983
"Specializing in Solar Power Services"
74-5490 Kaiwi St. Kailua-Kona by Ace Hardware
FURNITURE
Celebrating Our Grand Opening
with 44 Days of Free Healing
8/27/15 thru 10/10/15
mortgage
Purchase, Refinance, and Reverse Mortgage Options
76-6225 Kuakini Hwy. C-106
Kailua-Kona, Hawaii 96740
plumbing
24/7 Service
• Solar
• New Construction
• Re-Pipes
• Main Water
• Sewer
• Remodels
Tuesday, September 8, 2015 | WEST HAWAII TODAY