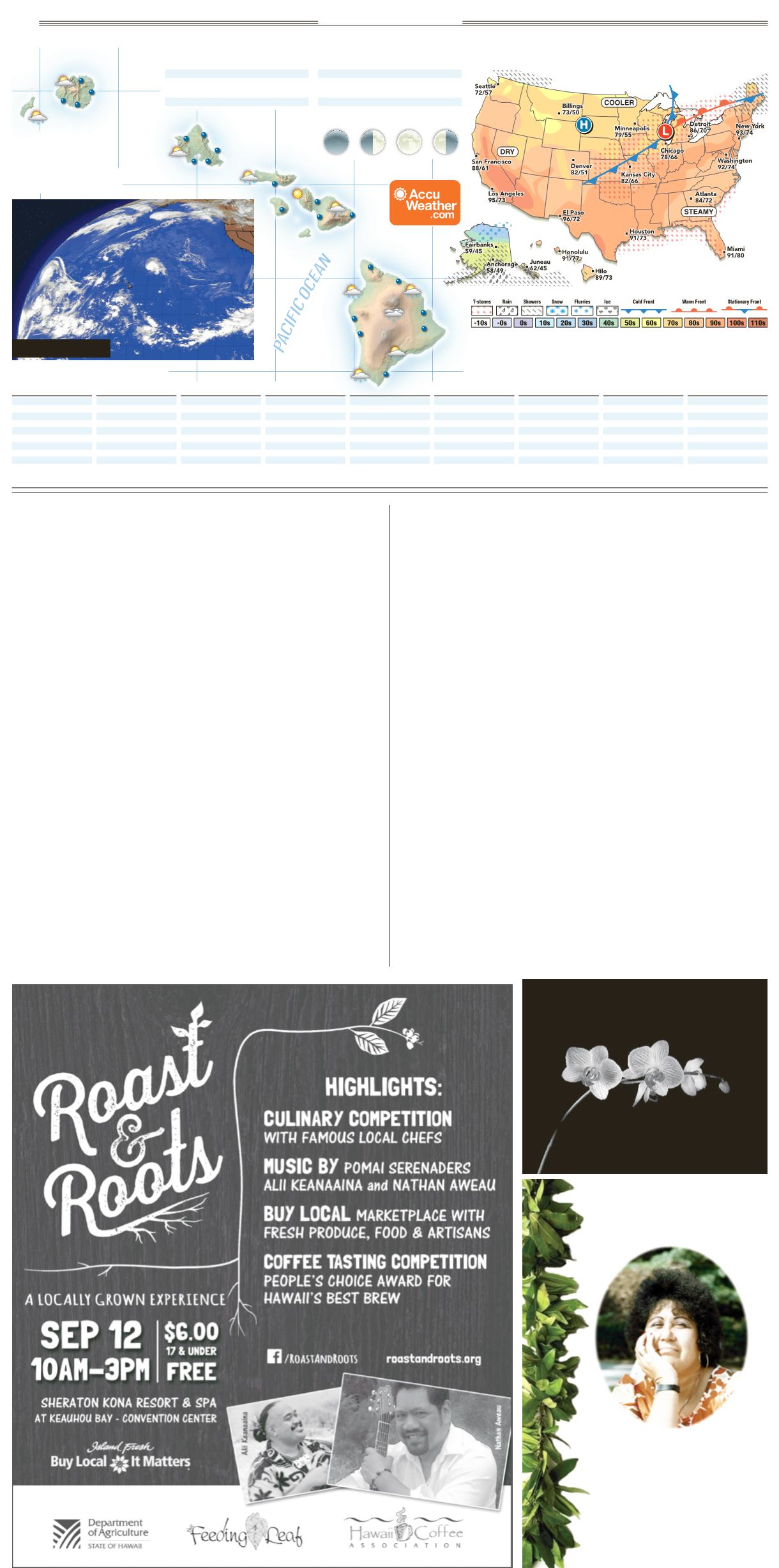 Aunty Mabel "Meipala" Ishii
First Lady of Waikoloa Village
Remembered for her many years of
kokua to numerous first time settlers
in Waikoloa Village,"Aunty Mabel"
was a blessing to many residents.
Her caring, unforgettable hugs of
Aloha no longer greet you at the
Village Office; however, the memory
of her giving heart will always be in
our own hearts.
1/2/1937 - 9/6/2003
no time to get that tooth fixed?
Dr. Randall Cislo 885-8617
General Dentistry | M–Th 7am–7pm | Fri 7am-12pm
HDS / DDP / AARP / HMSA / HMAA
tuesday, september 8, 2015 | west hawaii today
WEATHER
City
Hi/Lo/W City
Hi/Lo/W City
Hi/Lo/W City
Hi/Lo/W City
Hi/Lo/W City
Hi/Lo/W City
Hi/Lo/W City
Hi/Lo/W City
Hi/Lo/W
Weather(W): s-
pc-
c-
sh-
t-
r-
sf-
sn-
i-
TODAY'SWEATHER KONA TIDES TODAY SUN ANDMOON
NATIONAL WEATHER TODAY
Shown is today's weather.
highs and tonight's lows.
NATIONAL CITIES TODAY
SATELLITE VIEW
Shown are noon positions of weather systems and
precipitation. Temperature bands are highs for the day.
As of 3 p.m. yesterday.
Sep 12 Sep 20 Sep 27 Oct 4
Forecasts and graphics provided by
AccuWeather, Inc.
Hot and humid air will remain entrenched across the Northeast
today. Thunderstorms, some of which can bring flooding and damaging winds, will
extend from Michigan southwest into Kansas along a slow-moving cold front. Spotty
thunderstorms will be across the Southeast and Four Corner region. Sunny and hot
weather will be in the West.
Despite possible lower bills,
residents against NextEra deal
says would lower electric
the utility merger before
the state Public Utilities
just too far away to prop-
it's already hard to have
believe the larger utility
will help increase the use
lier this year to have 100
Realtors criticize online
posts of home-sale details
than its listing in April.
them, especially critical
kers can share a restrict-
you, but not all Realtors