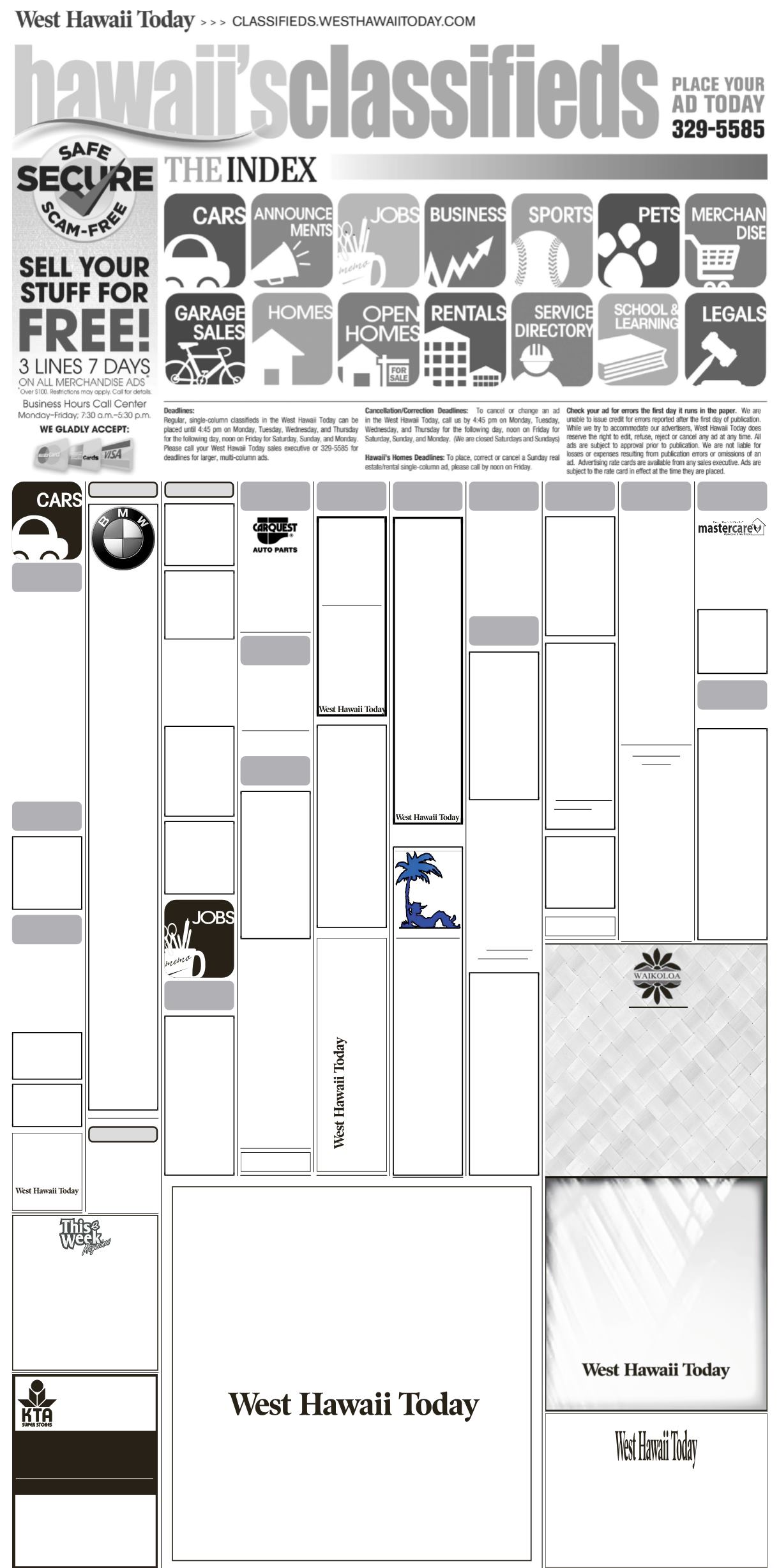 westhawaiitoday.com
See your business grow329-2644
westhawaiitoday.com
See your
business
grow
329-2644
329-2644
westhawaiitoday.com
See your business grow
westhawaiitoday.com
Seeyourbusinessgrow
329-2644
westhawaiitoday.com
Seeyourbusinessgrow
329-2644
Media Sales
We are looking for a self-driven
individual to join our dynamic sales
team. Sales experience a must.
Email cover letter and resume to:
KTA Keauhou
FULL TIME
LICENSED TO PRACTICE IN THE STATE OF HAWAII
Applications available at any KTA courtesy
Mail completed applications AND resume
September 23
KTA Super Stores, Human Resources Dept.
50 E. Puainako St., Hilo, HI 96720
Oahu Publications Inc. is seeking a quality individual to join our
successful team to manage the distribution of our portfolio of
publications. This position requires someone who is a self starter,
and a strong leader with a proven record in distribution, sales and
customer service. Candidate should have solid computer skills, well
organized and understand independent contractor relationships.
We offer competitive pay and great benefits.
Our full-time employees enjoy a generous benefit package that includes:
Medical, Dental, Company-Matched 401K as well as sick leave
Send resume with cover letter to:
7 Waterfront Plaza, Suite 500
West Hawaii Today is seeking a
We are an equal opportunity, affirmative action employer. We recognize and appreciate the benefits of diversity in the workplace.
People who share this belief or reflect a diverse background are encouraged to apply.
We offer great benefits and competitive salary.
Send resume and salary requirements to
Candidate will be responsible for financial statement
preparation, budget preparation, assist with year-end audit
and special projects. Individual must possess excellent
interpersonal skills and handle multiple responsibilities.
Must have experience with computerized accounting
systems and spreadsheets. Two years' experience with an
Accounting or Business degree preferred.
Waikoloa Land Company
150 Waikoloa Beach Drive, Waikoloa, HI 96738
Equal Opportunity Employer | Drug Free Workplace
is looking for a dependable
Independent Contractor to deliver newspapers, home
delivery to area homes and condos, and single copy
outlets. Independent Contractor will be responsible
for picking up newspapers. All newspapers should
be delivered by 6am weekdays and 7am weekends
and holidays. Successful candidate must have a
dependable vehicle, back up vehicle, clean driving
record and proof of insurance.
Independent Contractor
SOUTH KONA, WAIMEA/KAMUELA
930-7315
Tuesday, September 8, 2015 | WEST HAWAII TODAY