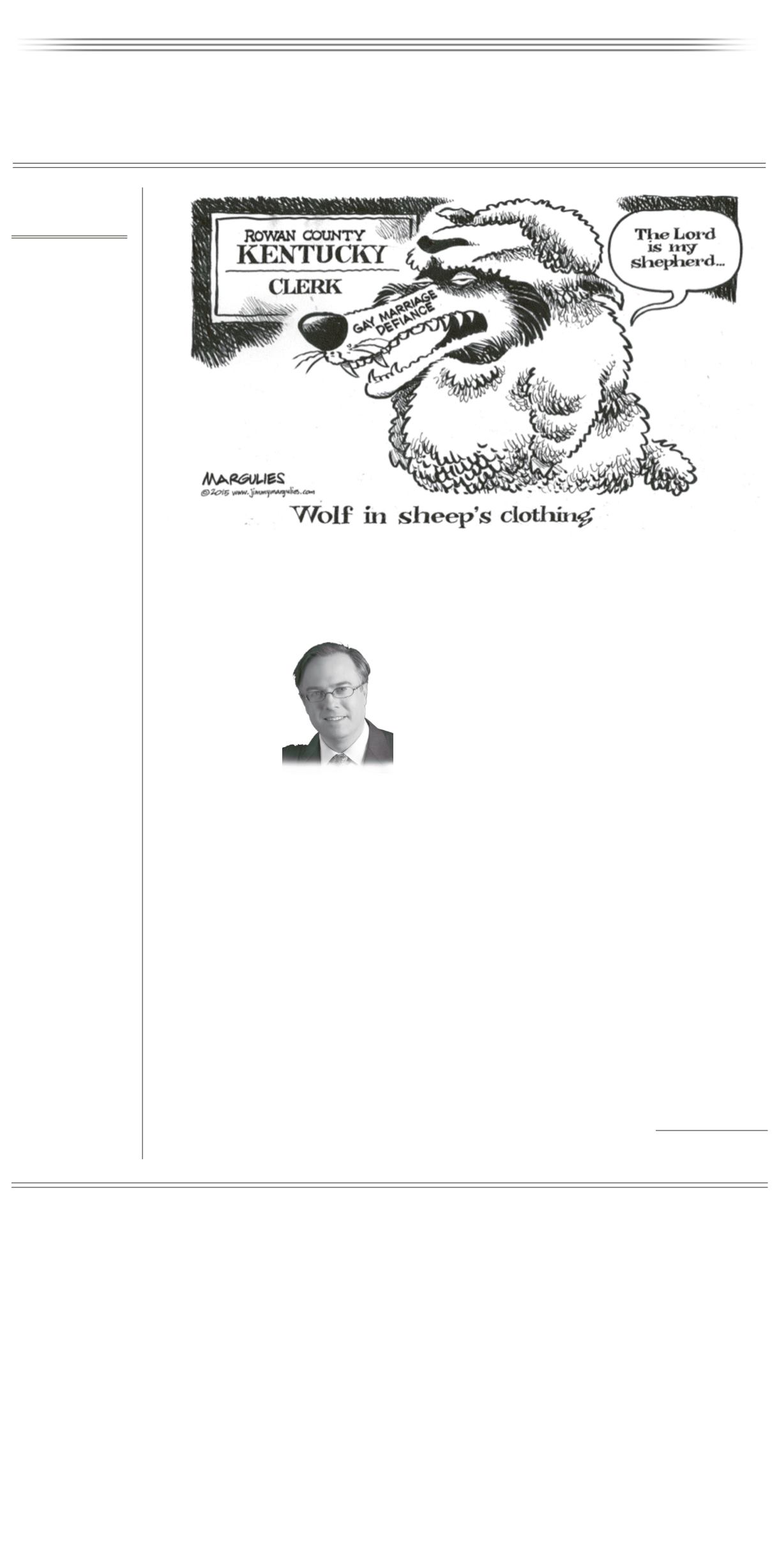 TUESDAY, SEPTEMBER 8, 2015 | WEST HAWAII TODAY
challenge the segregation
but it was opportune. She
things that the civil rights
issue marriage licenses to
social service providers,
right of public officials
religious reasons. This is,
in essence, seizing power
law, in this instance, is
and pass a constitutional
or to resign in protest (as
constitutional questions,
have it to overrule this."
rather, participation in a
believes that one of those
will properly contend for
their rights and interests.
Michael Gerson's email address
is michaelgerson@washpost.
Kentucky clerk has
no right to not issue
gay marriage license
used to say, "There is no
misplaced fear that doing
the actual participants in
associated with the civil
occasion, Jesus, advising
what is Caesar's and unto
God that which is God's."
salvation for her. But she
doesn't have the right to
says she is born again but
Patent law shouldn't block the sale of used tech products
Kim Davis is no Rosa Parks
from reselling, altering or
fixing technology products.
A federal appeals court will
soon hear a case that could
clearly establish this principle.
Impression Products, which
is before the U.S. Court of
Appeals for the Federal Circuit,
involves toner cartridges
produced by Lexmark for use in
its laser printers. The company
is suing Impression Products,
which buys used cartridges,
refills them with toner and
sells them to consumers. The
refilled cartridges cost less than
new ones sold by Lexmark.
Impression is infringing its
patents, because Lexmark's
consumers under the condition
that empty devices be returned
to the company. Lexmark also
asserts that the cartridges sold
in foreign countries cannot
be resold in the United States
without its permission. The
company bases this argument
on a previous Federal Circuit
ruling in a another patent case.
This case raises important
questions about the reach of
American patent law and how
much control a manufacturer
can exert after its products
have been lawfully sold. Taken
to their logical conclusion,
Lexmark's arguments would
mean that producers could
use patent law to dictate
how things like computers,
printers and other patented
goods are used, changed or
resold and place restrictions on
international trade. That makes
no sense, especially in a world
where technology products
and components are brought
which is why the court should
rule in favor of Impression.
want to restrict how their
manufacturers already use
contracts to restrict reselling
when they want to offer similar
products at different prices
in different countries. But
using patent law to enforce
restrictions is fraught with
problems. There is no reason
allowed to demand royalties
from second or third owners
unaware of any restrictions.
Public-interest groups like
Electronic Frontier Foundation
like Google, Intel and Dell
have filed briefs in support
of Impression, arguing that
patent law should not be used
to limit the resale of goods and
restrict international trade.
Pharmaceutical and medical
device companies have filed
briefs supporting Lexmark,
arguing that a ruling in favor
of Impression would make it
easier to import drugs into the
United States from countries
where their prices are lower.
That concern is misplaced,
because the Food and Drug
Administration has the power
to restrict drug imports,
prohibits the re-importation
support Impression's position.
In Kirtsaeng v. John Wiley
& Sons, a 6-3 majority said
import and resell textbooks
that were first sold abroad.
inventors patents on their
creations for a limited time.
But patents should not give
the manufacturer indefinite