Page 1 - KTA Superstores
P. 1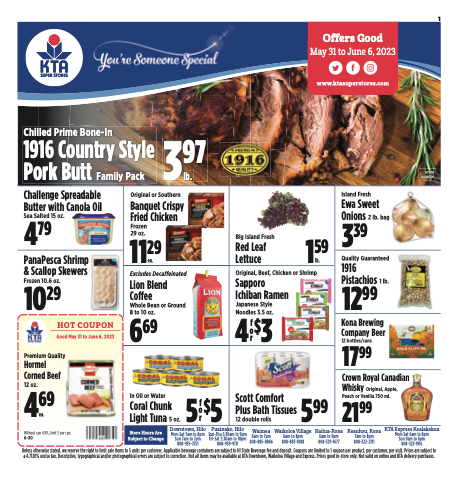 1
    Offers Good
May 31 to June 6, 2023
www.ktasuperstores.com
            Chilled Prime Bone-In
397
lb.
  1916 Country Style
       Pork Butt
Family Pack
serving suggestion
            Challenge Spreadable Butter with Canola Oil
ea Salted 15 oz. S479
PanaPesca Shrimp & Scallop Skewers
Island Fresh
 Ewa Sweet nions 2 lb. bag
O339
     1029
1299
Quality Guaranteed
 Frozen 10.6 oz.
1916 Pistachios 1 lb.
  Original or Southern
Banquet Crispy Fried Chicken
 Frozen 29 oz.
 1129
ea.
Big Island Fresh 159 Red Leaf
Lettuce
lb.
  Excludes Decaffeinated
Lion Blend Coffee
   Whole Bean or Ground to 10 oz.
  8669
Original, Beef, Chicken or Shrimp
Sapporo
Ichiban Ramen
Japanese Style 4Noodles 3.35 oz.
of $ r
        HOT COUPON
Good May 31 to June 6, 2023
Premium Quality
Hormel Corned Beef
142 oz. 69 ea.
Without cpn 4.99, Limit 5 per cpn.
6-30
            In Oil or Water
5
5
Coral Chunk Light Tuna 5 oz.
of $
r
Scott Comfort 599
Plus Bath Tissues
12 double rolls
  Store Hours Are Subject to Change
Kona Brewing Company Beer
Crown Royal Canadian Whisky Original, Apple,
Peach or Vanilla 750 ml.
 12 bottles/cans
1799
     Downtown, Hilo
Puainako, Hilo
Waimea
6am to 7pm 808-885-8866
Waikoloa Village
6am to 8pm 808-883-1088
2199
KTA Express Kealakekua
Mon-Sat 7am to 8pm Sun 7am to 7pm 808-935-3751
Sun-Thu 5:30am to 9pm Fri-Sat 5:30am to 10pm 808-959-9111
Kailua-Kona
6am to 9pm 808-329-1677
Keauhou, Kona
7am to 8pm 808-322-2311
Mon-Sat 6am to 8pm Sun 9am to 6pm 808-323-1916
Unless otherwise stated, we reserve the right to limit sale items to 5 units per customer. Applicable beverage containers are subject to HI State Beverage fee and deposit. Coupons are limited to 1 coupon per product, per customer, per visit. Prices are subject to a 4.7120% excise tax. Descriptive, typographical and/or photographical errors are subject to correction. Not all items may be available at KTA Downtown, Waikoloa Village and Express. Prices good in-store only. Not valid on online and KTA delivery purchases.