Page 1 - KTA Superstores - May 24-30, 2023
P. 1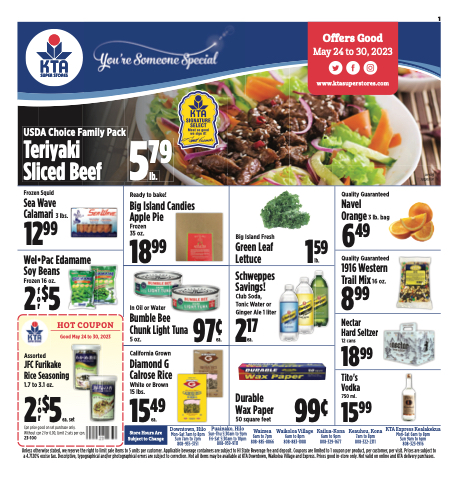 1
    Offers Good
May 24 to 30, 2023
www.ktasuperstores.com
            USDA Choice Family Pack 5
  Teriyaki Sliced Beef
579
      lb.
serving suggestion
         Frozen Squid
Quality Guaranteed
Sea Wave Calamari 3 lbs.
Navel Orange3 lb. bag
  1299
49 6
  Wel•Pac Edamame Soy Beans
Quality Guaranteed
Nectar Hard Seltzer
Tito's Vodka
      Frozen 16 oz.
1916 Western Trail Mix 16 oz.
2of $5 r
899
  Ready to bake!
Big Island Candies Apple Pie
 Frozen 35 oz.
1899
Big Island Fresh 159 Green Leaf
Lettuce
Schweppes
Savings!
Club Soda, Tonic Water or
2Ginger Ale 1 liter
ea.
lb.
            In Oil or Water
Bumble Bee 97 Chunk Light Tuna ¢
5 oz.
    HOT COUPON
Good May 24 to 30, 2023
     Assorted
JFC Furikake Rice Seasoning
1.7 to 3.1 oz.
2 of $ 5 r ea. set
Cpn price good on set purchase only. Without cpn 2 for 6.00, Limit 2 sets per cpn. 23-100
California Grown
Diamond G Calrose Rice
ea.
17
          White or Brown 15 lbs.
1549
ea.
Durable
Wax Paper
50 square feet
99¢
  Store Hours Are Subject to Change
 12 cans
1899
    Downtown, Hilo
Puainako, Hilo
Waimea
6am to 7pm 808-885-8866
Waikoloa Village
6am to 8pm 808-883-1088
1599
KTA Express Kealakekua
Mon-Sat 7am to 8pm Sun 7am to 7pm 808-935-3751
Sun-Thu 5:30am to 9pm Fri-Sat 5:30am to 10pm 808-959-9111
Kailua-Kona
6am to 9pm 808-329-1677
Keauhou, Kona
7am to 8pm 808-322-2311
Mon-Sat 6am to 8pm Sun 9am to 6pm 808-323-1916
Unless otherwise stated, we reserve the right to limit sale items to 5 units per customer. Applicable beverage containers are subject to HI State Beverage fee and deposit. Coupons are limited to 1 coupon per product, per customer, per visit. Prices are subject to a 4.7120% excise tax. Descriptive, typographical and/or photographical errors are subject to correction. Not all items may be available at KTA Downtown, Waikoloa Village and Express. Prices good in-store only. Not valid on online and KTA delivery purchases.
750 ml.